SOUTH SHORE SOLDIERS Spring Break Camp Session 1
South Shore Soldiers Words and Photos by Tawnya Schultz The assignment was simple: head to South Lake Tahoe and hang with the Southshore Soldiers crew. You know the regular dealio- shoot some photos, talk to campers, and enlighten readers about the scene. Well easier said then done.
This is only the beginning Things started off all fine and dandy. I arrived Sunday night and met up with Rob Crosby, Jimmy Halopoff, and the rest of the homies who have made the Soldiers name a staple in the snowboard world. In their sixth season the boys have things dialed and know how to combine the perfect combination of shredding all day and partying all night.
The beautiful Heavenly views lacking just a little snow Monday morning was the first day on snow and as expected a little hectic. Bright and early the campers and coaches met up at the California Bar at Heavenly Mountain Resort. Since the Soldiers private park was not yet set to shred and barcodes were somehow M.I.A. from everyone's lift tickets the posse made introductions, divided into groups, and established the days plan.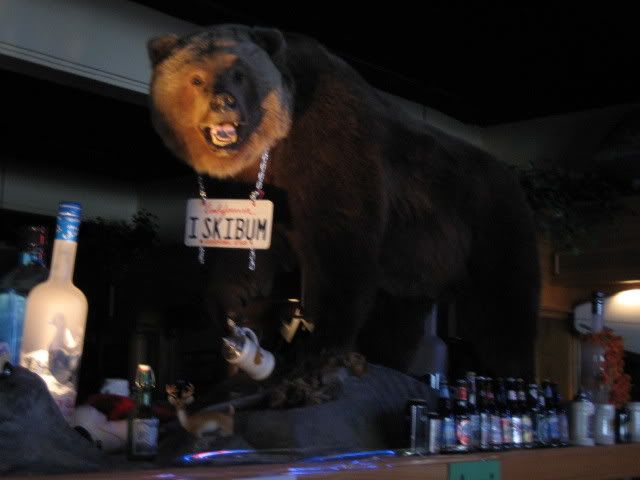 This bear is ill I decided to follow around Tahoe local pro Danny Rein and his campers and receive a little coaching myself as I made observations for my story. We began to session a box and improve our front-board skills. Danny gave amazing explanations about how to position for a perfect execution. We were all killing it and having a blast when we decided to hit up the Groove mini terrain park before grabbing lunch. After refueling for the remaining afternoon we headed back up to the Soliders park. This is where my memory becomes foggy. I remember watching Danny hit a 35-40 foot jump clean which suddenly gave me confidence to do the same.
See I'm fine! I don't remember going for the jump all I do remember is falling, having some scrapes on my face, and riding back down to the tent next to the park. From what everyone told me I kept repeating myself and speaking gibberish. The boys in charge then decided to call ski patrol because I seemed to be getting worse. Next I recall I'm in the hospital dazed and confused with a minor concussion, bruised knee, and messed up face. Very not so nice.
Maybe not so fine Anyway I survived camp a true soldier and had a freakin blast considering the latter. Although I was a little confused about why I was in South Lake I still made it to the party Monday night. Cha cha cha check out zee photos…
Coach Danny and I chattin it up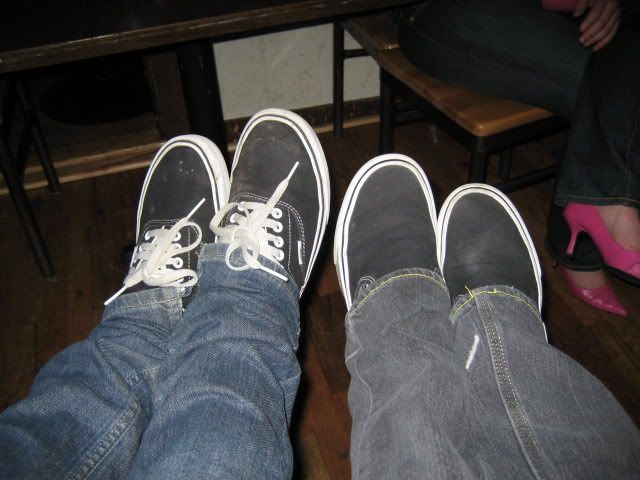 Got our Vans on
Nels Ahnlund loves the ladies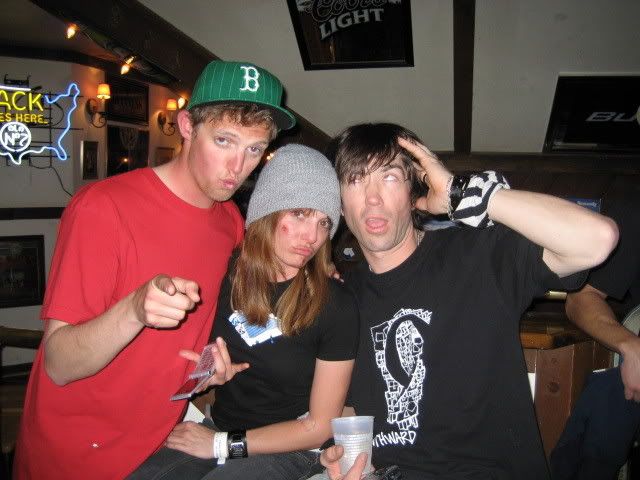 Nels, Shane Chandlee and I posin
Shane stoked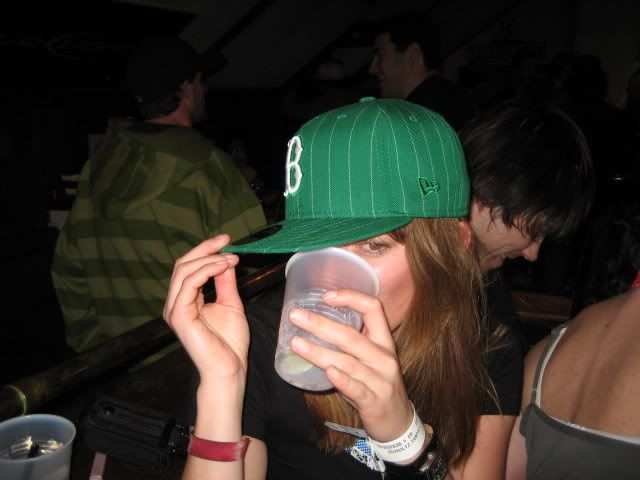 Pimpin ain't easy Tuesday the weather was somewhat uncooperative with wind and snow. I followed a group for a few but my knee and head were not felling too great. Here are a few photos from the day…
Crappy weather
Danny coaching his campers
Practice makes perfect
He's a pro skier too..nice Shane And once again big things went down Tuesday night. Let the bull ridin begin. Chicks gave it their all-no literally- in hopes of winning a shred stick. Rockstar vodkas and P.B.R.s were the bev's of choice and the party continued to several nearby hotel rooms.
This was nothing
Crowd photo
Hilarious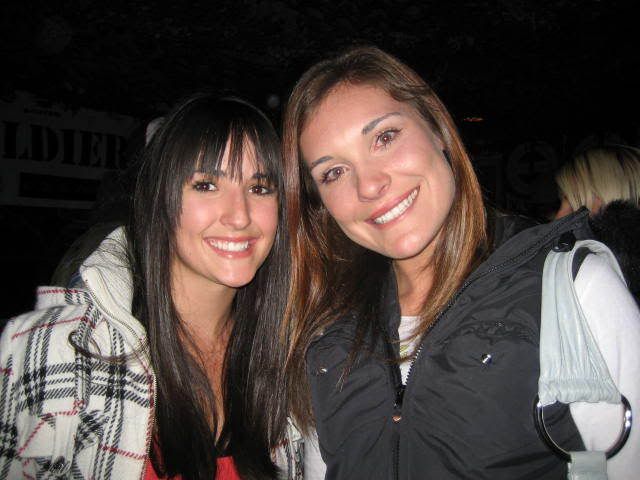 Jamie Anderson's sister and friend
The fam
Go DJ
The break-dancin was all time
Don't fall!!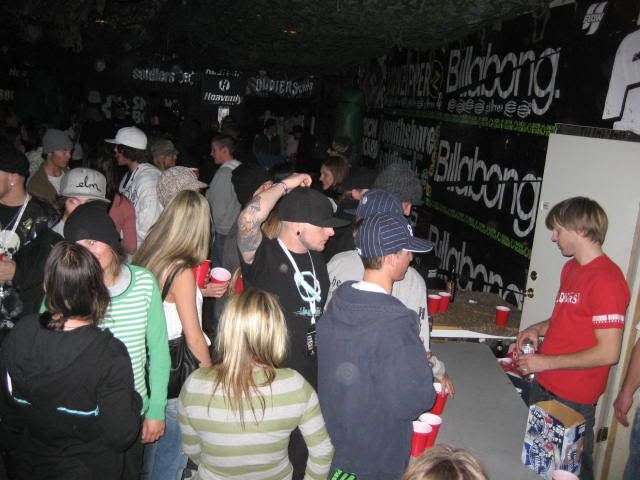 Crosby in the red servin up drinks
Like whoa
Strippin down…slowly but surely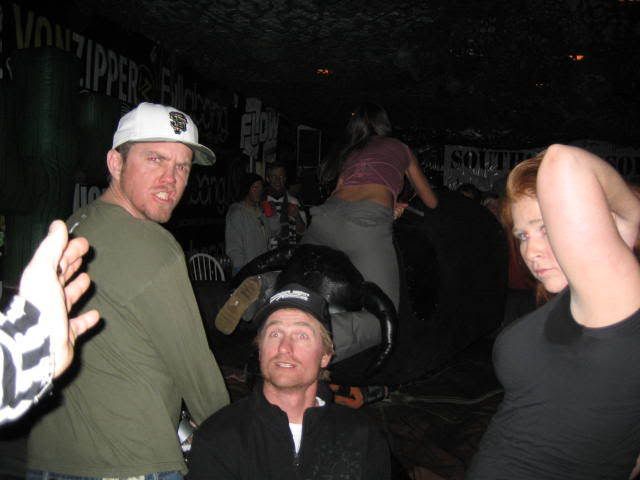 Ed and Jimmy…I just love his face in this photo and the chick in the background
Yah..what's going on??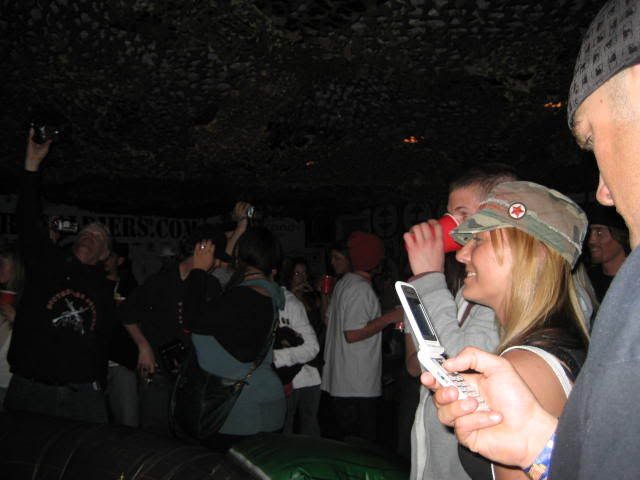 The crowd and their camera phones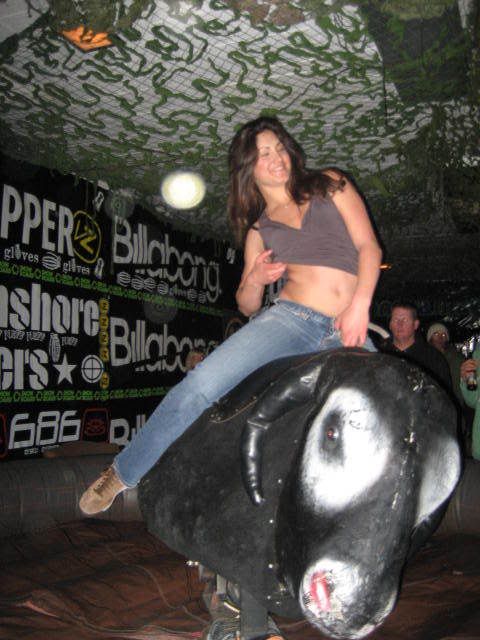 She worked it
This girl got down…for sure…but I can't show the naked photos
Winner!! Huge props to the entire Southshore Soldiers family especially Crosby, Jimmy, and Ed McClain for continuing to give shredders everything we need in life: the ability to improve, a great setup, and of course an awesome party. For anyone interested there is still time to become a Soldier. Two more camp sessions beginning March 23 and March 28 are just around the corner. Hit up www.southshoresoldiers.com, call 888.712.7772, or check out myspace.com/southshoresoldiers for more info. Look out for more updates next week and plenty of actual on-snow photos when my head is back to normal. Thanks also to Lane Knaack for visiting me in the hospital and Shane Chandlee for taking care of me when I didn't know what the hell was going on. Later skater.
Comments
Take Snowboardmag.com with you everywhere you go. Download the refined version 2.0 of our iPhone and iPad app for easy access to the latest news, photos, videos, snow reports, gear reviews, games and more.