Bluebird Wax Presents "DOBRE HOMBRES" on ITUNES
Jackson Hole local: Long time rider, filmmaker, entrepeneur, and good ol'boy -Willie Mcmillon and his rag-tag crew of Jackson Skids gone good! Over the past 16 years, The Bluebird Icon has become a symbol of True snowboarding.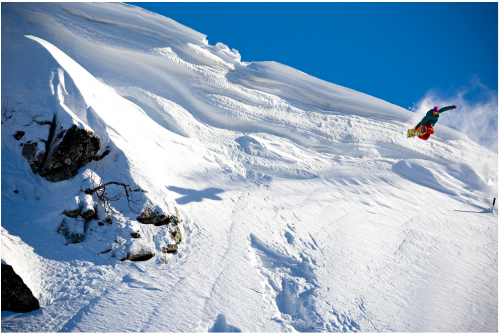 Method Air: Anne Flor Marxer
Bluebird is uncensored! They Produce a great line of products, Sponsor a team of sick riders, Create useful media promoting the youth into the core channels, all the while staying true to Snowboardings' humble upstarts! Soul points awarded for innovation and originality here folks! You can even find Bluebird Wax under your feet as Factory wax on Snowboards such as Lib-Tech and Rome.
"Dobre Hombres, (available on iTunes) breaks the traditional huck or die model of shred flicks, focusing instead on the heart of snowboarding through a documentary style narrative with — dare I say it — a message. If one thing unites the Bluebird crew it's that they enjoy snowboarding for all the right reasons" – Nate Deschenes
If your lucky enough to know Willie, you may catch him riding the tram at Jackson, or up in the Grand Teton National Park on his newly set-up SOLID splitboard, appreciating the local surroundings. DOWNLOAD DOBRE HOMBRES ON ITUNES RIGHT NOW.
The Bluebird Team consists of: TRAVIS RICE MARK CARTER JOHN JACKSON SCOTTY LAGO MARC FRANK MONTOYA KURT WASTELL BRYAN IGUCHI KEVIN JONES J.J. THOMAS JAMIE LYNN CHAD OTTERSTROM JEREMY JONES MARK LANDVIK KALE STEPHENS JOHAN OLOFFSON KYLE CLANCY KINGER ANNE-FLORE.M FORREST SHEARER MIKE PARILLO JOHN MAKENS ADAM DOWELL
VISIT THE OFFICIAL BLUEBIRD WEBSITE
CONNECT WITH BLUEBIRD ON FACEBOOK
Comments